By 1982 John Belushi had begun hanging out with a less than reputable group of characters - namely, one Cathy Smith, a former back-up singer for The Band, who had become a strung out addict and drug dealer.
On March 4, 1982, John Belushi, Smith, and former SNL writer Nelson Lyon spent the evening partying together. The trio ingested massive quantities of liquor and snorted even larger quantities of cocaine. They stumbled all over West Hollywood looking for the next party and ended up at the secret nightclub above The Roxy called On The Rox. From there, they walked next door to The Rainbow Room and ate. Belushi had a bowl of lentil soup. He began to feel nauseous and asked Smith to take him back to his room at the Chateau Marmont.
According to Smith, Belushi asked her to shoot him up with a needle full of drugs several times that night. Belushi, who was deathly afraid of needles, seemed to like the high, she claimed. While the couple sat around in a dazed state, two famous persons stopped by to see them. Comedian Robin Williams popped in and snorted a few lines of coke, but was creeped out by Smith. He thought she was a little too crusty for Belushi and wondered what he was doing with this lowlife. Williams bolted and told Belushi, "If you ever get up again, call." Sometime after 3:00 AM, actor Robert DeNiro knocked on Belushi's door. He had been playing tag with Belushi all night. The scene inside the room was not pretty, so DeNiro decided to not stick around.
John Belushi and Cathy Smith continued to shoot up until Smith decided she had to leave. She helped Belushi shower and put him to bed before taking off in his Mercedes. She noticed on the way out that he was breathing funny.
The next morning, John Belushi's personal trainer, Bill "Superfoot" Wallace, attempted to check on his friend. When he received no answer on the telephone, he went over to Belushi's bungalow. Inside, he found his friend in the fetal position on the bed, sheets twisted, and a pillow over his head. When Wallace threw the pillow aside, he saw Belushi's tongue sticking out of his mouth and a horrid discoloration of his body on one side where all of his blood had settled. Wallace attempted to resuscitate Belushi but to no avail. Belushi was dead.
The official coroner's report stated that John Belushi died from "acute cocaine and heroin intoxication." He was only 33 years old.
Cathy Smith was arrested and charged with first-degree murder for her role in the injection of the lethal doses that killed Belushi. She later bargained down to manslaughter and spent 18 months behind bars.
More interesting John Belushi Stuff and Photos:
Some facts about the Chateau Marmont:
Jim Morrison used up what he called the eighth of his nine lives trying to swing via a drainpipe from the roof into the window of his hotel room. (this is depicted in Oliver Stone's The Doors.)
James Dean and Natalie Wood first met at the Marmont, during a script rehearsal of "Rebel Without a Cause."
James Dean hopped in through a window to audition for Rebel Without a Cause.
Where it is - Chateau Marmont is located just above the north side of the Sunset Strip, just west of Crescent Heights, across the street from the giant statue of Bullwinkle the Moose (at the Dudley Do-Right Emporium). / From Hollywood & Vine, take Vine Street two blocks south to Sunset Boulevard, then turn right and go west (about 2 1/4 miles) to just beyond Crescent Heights. The hotel will be on your right (north) side.
The hotel was built in 1929 and modeled after the "Chateau Amboise" in the Loire Valley.
The Chateau Marmont over at Seeing Stars.com
ABC News coverage of John Belushi's death in 1982. Includes some great footage of the Chateau Marmont, Bungalow 3, and officials loading Belushi's body into the County Coroner van. In the video, we also see Cathy Smith being hauled away in handcuffs for questioning.
"On the Rox", "The Roxy" and "The Rainbow Room", where Belushi spent his last night on Earth.
Bungalow #3 where Belushi was staying the night he died.
Bungalow #3 where Belushi was staying the night he died.
Another shot of Chateau Marmont.
Belushi probably stumbled through this gate (#3) on that fateful night.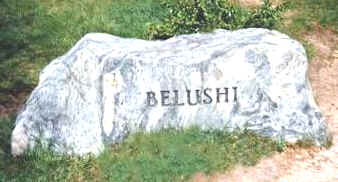 The marker on belushi's grave at Abel's Hill Cemetery, Martha's Vineyard, Massachusetts.
Bill "Superfoot" Wallace, Belushi's personal trainer, who found Belushi dead the next morning.