The Seedy World of Bob Crane, TV's Colonel Hogan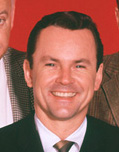 The Early Days
Robert Edward Crane was born in Waterbury, Connecticut on July 13th, 1928. By his early teens, he was demonstrating musical talent and had set his sights on becoming a drummer, and fantasizing about being the next Buddy Rich. At age sixteen, he began drumming for the Connecticut Symphony Orchestra, but was let go after two years for "clowning around during a Bach fugue."
In 1949 Crane married his high school sweetheart, Anne Terzian, with whom he would eventually have three children: Robert David, Deborah Ann, and Karen Leslie.
Crane began his career in radio on WLEA in Hornell, New York, WBIS in Bristol, Connecticut, WICC in Bridgeport, and Boston's WEEI. His success in the east led to an offer to relocate in 1956 to Los Angeles and host the morning show at KNX where he became known as "The King of the Los Angeles Airwaves." His show filled the broadcast booth with sly wit, drums, and often, movie stars. His show was the number-one rated morning program in LA and stars such as Marilyn Monroe, Frank Sinatra, and Bob Hope, were guests.
But Crane had a higher ambition, and pursued acting opportunities. He subbed for Johnny Carson on "Who Do You Trust?" (and turned down the chance to be Carson's replacement), and acted on shows like "The Twilight Zone," "Alfred Hitchcock Presents," and "General Electric Theater." When Carl Reiner guested on the KNX show, Crane persuaded Reiner to book him on "The Dick Van Dyke Show" in 1961. This was where he was spotted by Donna Reed who eventually cast him in the recurring role as neighbor Dr. Dave Kelsey (1963-1965). He also acted small roles in the dramatic films "Return to Peyton Place" and "Man-Trap."
Hogan's Heroes
In 1965, Crane was offered the starring role in a television comedy pilot about Allied prisoners in a German P.O.W. camp, "Hogan's Heroes." The character of the wisecracking Colonel Robert Hogan fit Crane like a glove, and the show, which had the rebellious spirit of "Stalag 17" and "The Great Escape," became a hit, finishing in the top ten during the 1965-66 season. The basic concept was that Hogan and his team led the Nazis (well played by Werner Klemperer and John Banner) to believe that the camp was escape-proof so that they could continue their secret activities. There was some controversy at the beginning of the show's run as to whether this kind of material was appropriate for a sitcom, but that soon passed. "Hogan's Heroes" went on for six seasons, and Crane was nominated for an Emmy twice, in 1966 and 1967. During this time, Crane met Patricia Olsen, who played Hilda on "Hogan's Heroes," under the stage name, Sigrid Valdis. Crane divorced his wife of twenty years, and married Patricia on the set of the show in 1970. They had a son, Scotty, the following year.
After "Hogan's Heroes" was canceled in 1971, Crane continued to act, appearing in two Disney films, "Superdad" (1974) and "Gus" (1976), and had numerous guest spots on TV shows like "Police Woman," "Ellery Queen," "Quincy," and "The Love Boat." He had his own TV show "The Bob Crane Show" in 1975, but it was canceled by NBC after three months.
"Oh, Bob's Got a Girl Here. Now Where's Bob?"
On Wednesday, June 28, 1978, after completing an evening performance and signing autographs for fans in the lobby, Crane returned briefly to his Scottsdale, Arizona apartment with a longtime friend, Los Angeles video equipment salesclerk John Carpenter. Before Crane and Carpenter headed out on the town, Patricia called Bob, and according to Carpenter, the estranged couple argued loudly on the phone. Thereafter, Crane and Carpenter adjourned to a local bar, where they had drinks with two women whom they had arranged to meet. At about 2:00 A.M., the quartet went to the Safari coffee shop on Scottsdale Road. About half an hour later, John Carpenter left to pack for his return trip to Los Angeles the next morning. Back at his hotel room, he called Crane one final time. Crane was allegedly considering ending his lifestyle of heavy partying, and was therefore tired of hangers-on like Carpenter. During this last phone call, Bob reportedly told Carpenter that their friendship was over.
Crane's Beginner's Luck co-star, Victoria Berry, would knock on Bob Crane's door at the Winfield Place Apartments at around 2:00 pm on June 29. The front door to his apartment, 132-A was closed, but unlocked. Berry would enter the apartment and find the entire apartment dark. As she entered the bedroom she said: "... At first, I thought it was a girl with long dark hair, because all the blood had turned real dark. I thought, 'Oh, Bob's got a girl here. Now where's Bob?... ' I thought, 'Well, she's done something to herself. Bob has gone to get help.' At that time, I recognized blood... it was like a strange feeling."
Upon closer examination and realizing what exactly she was seeing, Berry thought "the whole wall was covered from one end to the other with blood. And I just sort of stood there and I was numb. Bob was balled up into a fetal position, lying on his side. He had a cord around his neck which was tied in a bow."
The Investigation
There were no physical signs that a struggle had taken place, and the autopsy determined that Bob Crane was asleep when the deadly blow to the left side of his head was delivered. The subsequent police investigation had determined that Crane's head was struck by two separate parts of a camera tripod, inflicting two separate and deadly wounds. Paulette Kasieta, the first Scottsdale police officer to arrive on the scene, immediately secured the area with crime scene tape. At approximately 3:00 p.m., Scottsdale Police Lt. Ron Dean arrived at Crane's apartment and took over the investigation.
Initially, investigators surmised that the killer was someone Crane knew. Perhaps a person who left the apartment before the incident, and later returned through the unlocked front door or perhaps a window that had been purposefully left unlocked or open. The Maricopa County Medical Examiner was able to put together a partial chronology of events on that evening. Sometime during the early hours of Thursday, June 29, while Crane was sleeping on his right side, the murderer would strike a deadly blow to the left side of Crane's head with some type of heavy, blunt instrument. A second much lighter blow would crush in Bob Crane's skull, likely killing him immediately. For some unknown reason, the perpetrator likely then tied an electrical cord tightly around the actor's neck. But by that time, Crane was already dead. Before fleeing the scene, the killer would apparently wipe the blood from the murder weapon using the bed sheets, and then pull the sheet up over Crane's head. Money was found in Crane's wallet, which likely eliminates robbery as a motive.
A Longstanding Fetish
The Investigation at the crime scene brought to light Bob Crane's secret, kinky sex life, which he continued to pursue while in Scottsdale, just as he had for several years earlier. He had a long standing fetish of videotaping himself and his female sex partner (of which there were many over the years) in various stages of sexual acts. It was rumors of this kind of activity, as well as other penchants like playing drums at various topless bars in LA, that purportedly cost Crane many TV and movie acting gigs. Apparently, producers were fearful of having their screen product associated with such a two-sided man.
Approximately 50 pornographic videotapes were found at the Winfield apartment, as well as professional photography equipment in the bathroom for developing and enlarging still shots. A negative strip was found in the enlarger, revealing a woman in both clothed and nude poses. A hefty album of similar pornographic pictures was missing from the death scene. Several items that the police declined to identify were missing from Crane's "Little black bag", a small, multi-zippered carrier that he always carted around with him. (Victoria Berry had seen it when she first discovered the body, but it later disappeared and was never accounted for.)
A Suspect Emerges
The primary suspect in the case of Bob Crane's death was, of course, Crane's long-time friend and sometimes business partner John Carpenter. He and Crane were introduced by Richard Dawson, another co-star of "Hogan's Heroes." Crane and Dawson shared a common passion: women. But more often than not, Carpenter was left to fend for Crane's leftovers since, due to Crane's popularity and legendary charm, there were plenty of women to go around. In return, Carpenter provided Crane with plenty of state-of-the-art video toys.
The night before Crane's murder, Carpenter was sitting with Victoria Berry at the Windmill Dinner Theatre. She would join him during her set breaks. Berry claims that after the show ended, she witnessed Crane and Carpenter exit the building together and proceed to Crane's car, where Crane would call out to her to not forget "their appointment" the next day.
As Berry was writing her official statement to the police in Crane's kitchen at around 3:15 p.m., the phone rang. Lt. Dean instructed her to answer the phone but to not mention anything about Bob Crane. It was John Carpenter calling from L.A.. The police lieutenant took the phone from Berry, properly identified himself, and instucted Carpenter that the police were in Crane's apartment investigating "an incident."
During the phone call, Carpenter told Lt. Dean he had been out with Crane the previous evening until around 1:00 a.m. Carpenter would later change that time to 2:45 a.m. He then went on to say that he had driven by himself to the airport later that morning for his return flight to L.A.
Carpenter would call Crane's apartment again at 3:30 p.m. Lt. Dean mentioned in his report that he found it odd that Carpenter never asked anything more about the "incident and didn't ask him where Crane was.
At the time in 1978, the Scottsdale Police Department did not have a homicide investigation unit, so Lt. Dean's chief case officer, Dennis Borkenhagen, began the death investigation himself at Crane's apartment, but later decided that no items of any value had been taken during the crime. He did observe some blood smears on the inside of the front door and entrance way, but decided there was no forced entry. The sliding glass door that led from Crane's apartment to the swimming pool area outside was discovered unlocked.
Other Suspects
Later that day the police interviewed some of Crane's colleagues and friends, discovering that though Crane was personable, charming, and fun to be around, he had made enemies. There was also a fellow actor who had argued with Crane in Texas and later had sworn vengeance. And, inevitably and unsurprising, given Crane's reputation with the ladies, there were numerous angry husbands and boyfriends.
Still, Carpenter remained the prime suspect. Some who had been interviewed claimed that Crane's relationship to Carpenter had begun to show some strain, though actual evidence of any rift was not readily available. Any physical evidence that might have tied Carpenter to the crime was also scarce, as was the motive that would have compelled him to murder his best friend. But the possibility of a loan and one bit of compelling evidence, however slim, seemed to point to Carpenter.
A Motive?
Rumors flourished that Carpenter had borrowed $15,000 from Crane. Crane may have been demanding repayment. Perhaps even more compelling, the police discovered a small blood smear on the passenger side door of Carpenter's rented vehicle. Carpenter had complained about a problem with the electrical wiring with the car and it had been sent for repairs at the Phoenix dealership. Scottsdale Det. Darwin Barrie inspected the vehicle and claims to have noticed a small amount of dried blood in the interior. His commanding officer, Dean, ordered the car towed to the DPI compound in Phoenix. The car was examined and photographed by criminologist Bruce Bergstrom of the Arizona Department of Public Safety. Bergstrom's job was to find and process any blood or tissue evidence found in the car. And it was there that the investigation phase of the case began to fall apart even before it really got started
The blood that was found in John Carpenter's car was eventually tested and was determined to be Type B -- coincidentally, the same blood type as Bob Crane. Carpenter's blood was the more common Type A blood. Type B blood is only found in slightly more than 10 percent of the population. Though the presence pf the same blood type in Carpenter's car was suspicious, Blood type was not a good measure of positively identifying a victim. Remember, this was before DNA testing.
The Case is Reopened
In 1992, determining that tissue collected in Carpenter's rental car matched that found at the murder scene, investigators reopened the murder case. Additionally, investigators determined that Crane had been beaten with a second tripod that was not found at the murder scene but was featured in many of the videos.
The County attorney's office had determined there was enough evidence to try Carpenter for the death of Bob Crane so the case went to court in 1994. But, following a two month long trial, Carpenter was acquitted and would die four years later totally maintaining his innocence in the death of Bob Crane.
Though the full truth of the unsolved murder will probably never be known, rumors abound that a boyfriend or husband of one of Crane's female co-stars is the culprit. On the night of Crane's last performance, a flat tire caused by a tampered valve stem is suspected to have been intended to strand Crane alone in the club's dark parking lot. Who knows?
---
---
More Bob Crane Stuff:
Bob Crane Links

Cold Case: More on the murder of Hogan's Hero's Bob Crane
Former Windmill Dinner Theatre

Bob Crane page over at Wikipedia
John Carpenter at his murder trial in 1994. He died in 1998.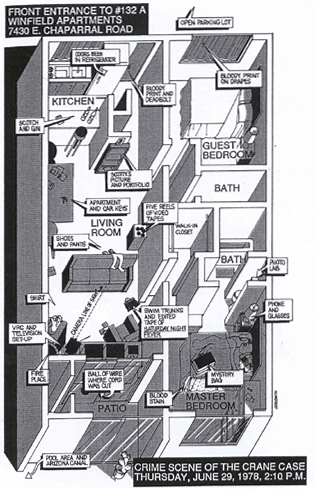 The Bob Crane murder scene at The Winfield Apartments
Somewhat tasteless viewer video of a visit to the Winfield Place Apartments where Bob Crane's body was found. Update: It has since been pointed out that the window labelled as the room where Crane was killed, is actually the kitchen window.
Interesting video tour of the modern-day Winfield Place and Windmill Dinner Theater (which has since been razed.
The Windmill Theater where Bob Crane performed later in his career.
Title card for Beginner's Luck at Windmill Dinner Theatre.
Map with notation of Bob Crane's burial plot within the Oakwood Memorial Park. Update: In 1999, Crane's body was dug up by his second wife and moved to Westwood Memorial Park.
Police investigators remove crane's body from his Scottsdale apartment.
Oakwood Memorial Park where Bob Crane is buried.

Crane's body has since been moved to Westwood Memorial Park.
Oakwood Memorial Park where Bob Crane is buried.

Crane's body has since been moved to Westwood Memorial Park.
Robert Crane Grave Marker