Diff'rent Drugs for Diff'rent Folks - Dana Plato
How The Gong Show and Wayne Newton Ruined Her Life

Her Career
Dana Michelle Plato led quite an interesting life, full of dizzying heights and earth-shattering lows. She came to fame as a child star but found out soon enough that early fame often has its own pitfalls. Best known as Kimberly Drummond, the older sister on TV's "Diff'rent Strokes," Dana went through a lot while never quite escaping the scrutiny of the media and fans.
Dana Michelle Plato was born in Maywood, California on November 7, 1964. Her birth mother (Linda Strain who was a 16-year-old unwed mother already struggling to support an 18-month-old child) gave her up for adoption as an infant and she was taken in by a Southern California couple (adopted by Dean and Florine 'Kay' Plato in June 1965) who soon enough guided her into acting. Dana landed roles on over 100 TV commercials as a child, including appearances for KFC, Arco and Dole bananas. Her questionable luck kicked in early on -- Dana was chosen for the lead role in "The Exorcist" but her adoptive mother refused to let her appear in such a film. So while Linda Blair went on to huge stardom, Dana was left with roles in flicks like 1975's "Beyond the Bermuda Triangle." (Dana did grab a small part in "Exorcist II: The Heretic," a film that has been voted one of the worst of all time.)

The Bittersweet Irony of the Hollywood Machine

Dana's fortunes began to turn when she was spotted by a producer during a brief appearance on TV's "The Gong Show." He was casting a new sitcom for NBC which was to become "Diff'rent Strokes," and Dana landed the part of Kimberly. Her girl-next-door cuteness and seemingly effortless way with comedy won her lots of fans during the show's prime time run, which lasted from 1978 to 1986. Dana moved in with rock guitarist Lanny Lambert in December 1983. In April 1984, she married Lanny and on July 2nd, 1984 their son Tyler Edward Lambert was born. Dana was fired from Diff'rent Strokes after the 1983-1984 season because of her pregnancy, but she did return for the final season on ABC in 1985-1986. By the time the program was cancelled, Dana had blossomed into a striking young woman, but her acting career could never escape the long shadows cast by her sitcom stardom.


Dana Plato's mother, Florine 'Kay' Plato, who had guided her career died of a blood disease in January of 1988 and her husband reportedly left her the same week. Dana and Lanny would divorce in March of 1990 and Dana was allowed visitation of her son, but her husband won physical custody of Tyler.

A New Low
Dana Plato drifted in and out of the business over the next few years. She posed for a June 1989 Playboy pictorial (a 5-page nude layout, the shots were taken in November 1988 in Arizona and appeared in the June 1989 issue of Playboy Magazine). The Dana Plato nude Playboy pictorial did nothing to help revive her career, however, and Dana continued to languish on the fringes of the entertainment industry. She blasted her way back into the headlines in January of 1992, when she was arrested for the armed robbery of a Las Vegas video store (which she used a pellet gun and netted her $164) - she was charged with armed robbery and was later sentenced to five years probation. Her ill-conceived grab for rent money (it was really a cry for help according to many people) sent her to jail for a short stint, but her new notoriety managed to get her work in the "no publicity is bad publicity" world of Hollywood. Dana was helped by Las Vegas singer, Wayne Newton, who posted the $13,000 bail for her. In January of 1992 she was arrested for forging Valium prescriptions. Cited for parole violation, she served 30 days in jail. In 1993, she spent a month in a drug and alcohol rehab center in Las Vegas - one of several times she went into rehab. She first went into drug rehab on January 20, 1992.


Sapphic Pride?
Following her jail term, Dana appeared in a string of B-grade features including such sterling gems as 1992's "Bikini Beach Race" and 1995's "Compelling Evidence." She was featured in a video game in 1992 called Night Trap as a scantily clad victim. In 1995, she was in a play called "Last of the Red Hot Lovers" where she received passing grades. Her experiences behind bars also seemed to change more than just her career prospects -- Dana came out as a lesbian in a 1998 issue of the Sapphic pride magazine "Girlfriends." (she had said in more recent interviews that she was not a lesbian and was only experimenting). She turned plenty of heads with her scintillating performance in the 1997 straight-to-video epic "Different Strokes." It's a steamy softcore tale of a guy and a girl and another girl, and Dana shows off her curvaceous figure and lust for her fellow femmes in a series of sensual scenes.

The End
On May 7, 1999, Plato made an appearance on The Howard Stern Show, where she announced that she was engaged to 28-year-old Robert Menchaca, and that he was managing her career. During the interview, Plato was quite frank about her life and career, even openly admitting to being a recovering addict. The interview began to go downhill however, when the phones were opened up to callers. A barrage of negative callers would hound Plato, calling her names and provoking her to the point of her offering to take a drug test while on the air. Even after the interview, Plato would never seem to get over the negativity and seemed depressed about how things were unfolding for her.

The next day, while returning to California, Plato and Menchaca would stop at Menchaca's mother's home in Moore, Oklahoma for a Mother's Day visit. Plato went to lie down inside her recreational vehicle parked outside the house and subsequently took a large dose of Lortab and Valium. Sadly and tragically, she never awoke from her sleep. Her death at the age of 34 was eventually ruled a suicide and her body was cremated.
---
Following is an article detailing the death of Dana Plato:
Coroner officials in Oklahoma today ruled the troubled ex-Diff'rent Strokes star committed suicide--intentionally overdosing on a toxic batch of painkillers.

Dana Plato died May 8 in Moore, Oklahoma, as she slept in a mobile home parked outside the home of her fiancee's parents. She was 34. Police first said the actress' death appeared to be an accident.

But Dr. Larry E. Balding, Oklahoma's deputy medical examiner, said the number of pills found in her system, combined with what he termed a past history of suicidal tendencies, led his office to conclude Dana Plato meant to die.

The former child star left behind no note. Some have said Dana Plato was shaken the day before her death by an appearance on Howard Stern's radio show. During the interview, Plato alternately wept, volunteered to take a drug test, un-volunteered to take a drug test and declared herself "never...happier."

Lab work showed Dana Plato's system swimming with the painkillers carisoprodol (a muscle relaxant) and hydrocodone/acetaminophen. The equivalent of seven carisoprodol tablets were found. Initial reports fingered the prescription drugs Valium and Lortab (a brand name of hydrocodone/acetaminophen).
---
The Internet Rumors Persist:
In 1999, Dana Michelle Plato was living with her fiance, Robert Menchaca, and had been living in an RV park in Navarre, Florida. Dana was priming the pump for another shot at the big time that included an interview with Howard Stern. She made the interview, and was dead two days later.

Since her death, Web sites have been popping up all over the electronic landscape. Writers are furiously cranking out books. Ebay is jammed with people buying and selling Dana memorabilia, and the revision of her history has begun.

The total lack of an investigation is troubling. The police took Menchaca's account of what happened as gospel, even though it was apparent that Plato had been dead for hours before he phoned the police. Even more troubling was that the police confiscated Polaroids he took of Plato as she laid dead or dying. The police determined death was accidental overdose, the medical examiner determined suicide based on old scars at her wrist. Good work, Quincy! You and Sheriff Lobo there in Moore, Oklahoma should be real proud. Let's see: Dana was attempting a comeback; was in Oklahoma to be with her son for Mother's Day, and it looked very much like she was going to leave Robert Menchaca. Add to the mix Dana's mother-in-law, a nurse, who recommended Dana try Lortab, even though she knew Dana was using Valium and the deadly combination of the two drugs. Menchaca was attempting to ride the gravy train of a Dana Plato revival, and with Plato leaving him out of her trip to New York to appear on Howard Stern, it looked like he was about to be cut out of the picture. He may have decided he could profit more from a dead, martyred Dana Plato than a live one hoping to get parts in international market sex thrillers, or making the talk show circuit. It's hard to imagine you could be in the extremely close confines of a small RV and not know your girlfriend was dead. Especially when she had a history of suicidal gestures, and drug problems, including a Valium OD when she was fourteen.

She was laid over in Dallas trying to meet him in Oklahoma City. Did Dana Plato die because of insane jealousy? Would this non-investigation of this death have happened in New York or Los Angeles or St. Louis? Would a city with a murder rate in the top 20 have just taken the deceased's boyfriend's word for what happened? Did these small town cops just assume some drug addict got what she had coming? Did Robert Menchaca get away with the perfect murder? Was Menchaca just an idiot who couldn't tell his fiancée was dead? Did Lee Harvey Oswald act alone? Was Marilyn Monroe murdered? Or was it suicide? Did Dana Plato simply give up?

The mystery of her death will forever make Dana Plato a name people will remember. The revisionists are hard at work building her into the greatest and most beloved actress of a generation. She is fast becoming a tragic figure and a martyr. A saint for the disillusioned. The Internet will keep the legend growing. Suicide, OD, Murder. Does it really matter why she died? The truth is, millions of dollars will continue to be spent on Princess Diana's incredibly straightforward death as the media tries to hunt down elusive Fiats, unable to accept she died because she got into a car with a drunk driver. But the mainstream media is all too eager to simply accept that Dana Plato took too many sleeping pills and died, end of story. With new books, Web sites, and a new documentary on The E! True Hollywood Story , maybe some investigation of her death may occur.
The Autopsy Report:
Following is the autopsy report from the Office of the Chief of Medical Examiners in Oklahoma City, OK



Decedent-Dana Plato; Age 35; Birth date - 11/01/63; Race - W; Sex - F; Marital Status - single; Authority for autopsy - Larry E. Balding, M.D.; Present at autopsy - Steve Mullins; Identified by - Toe Tag; Type of death - Violent, unusual, or unnatural.

The cause of death in this individual is toxic concentrations of the drugs carisoprodol and Hydrocodone / acetaminophetamin. There high levels of these drugs in the blood as determined by laboratory studies. Laboratory analysis of the gastric contents shows the equivalent of 7 tablets of Carisoprodol unabsorbed and still present in the stomach. The blood concentrations of these drugs along with the gastric concentration of Carisoprodol is indicative of an acute intentional overdose ingestion. This, coupled with past history of suicidal gestures has resulted in the determination of the manner of death as being suicide.

The body is that of a well developed, well nourished, white female clad in a pair of multicolored checkered shorts. Accompanying the body is a blue tank top, which has been cut from the body. Multiple emergency medical interventions are present on the body which are diagrammed in the included CME-182 series form. Eyes are clear and show no petechiae. Dentition is natural, intact and unremarkable as in oral mucosa. Blackish-brown vomitis is in the mouth and stains the face. Neck, chest, abdomen and back appear intact and unremarkable. Arms, hands, legs and feet show no acute injury. On the palmar aspect of the right wrist, there are two old scars. One is horizontal and approximately 1.0 in. in length and the other is somewhat curvilinear at approximately 1/2 in. in length. Hands are otherwise intact and unremarkable. Anal and genital regions appear intact and unremarkable.

Multiple professional style tattoos are present on both feet, as well as on the posterior aspect of the left shoulder and these are diagrammed on the included CME-182 series form. There is also a professional style tattoo in the right inguinal area that consists of a winged fairy and a star.


---
More Bad Dana Plato Related News:
Seems the hunger for drugs runs in the Plato family as we lost Dana Plato's son to what is reportedly drug-related behavior:
May 13, 2010 - Tyler Lambert, the son of late Diff'rent Strokes star Dana Plato, has committed suicide, nearly 11 years to the day that his mother took her own life. He was 25 years old.

Lambert died of a self-inflicted gunshot to the head last Thursday in Tulsa, Okla., says his grandmother, Joni Richardson. Lambert, a cameraman and amateur songwriter, had been experimenting with drugs and alcohol, Richardson said, which she thinks contributed to his death.


---
Recent News:Dana Plato's Diff'rent Strokes co-star, Gary Coleman has died. He was suffering from intracranial brain bleeding and was on life support in the intensive care unit of a Provo, Utah hospital, Coleman's spokesman said. Coleman, 42, fell ill at his Santaquin, Utah, home Wednesday evening and was rushed by ambulance to a hospital, the spokesman said in a statement released Friday.
Coleman, 42, has had a number of health emergencies this year, including a seizure he suffered on the set of "The Insider" in February. He has suffered from a kidney condition that caused his short stature.
---
More Dana Plato Stuff:
Dana Plato
Dana Plato in one of her less glamorous moments.
Dana Plato's 1992 arrest mug shot.
Another image of the mug shot.
Dana Plato and the cast of Diff'rent Strokes.
Dana Plato with guitarist boyfriend, Lanny Lambert, circa 1983.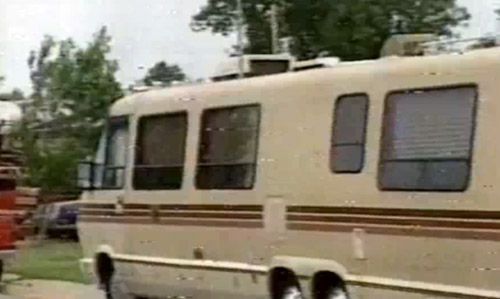 Dana Plato died in this RV outside the home of her fiancee's parents in Moore Oklahoma.
Dana Plato's interview on the Howard Stern Show
Dana Plato External Links: